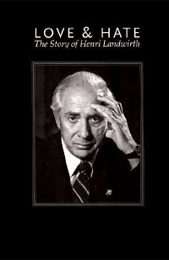 Henri Landwirth is about to celebrate his 87th birthday.  It's safe to say he beat the odds.
At the age of 13, Henri was sent to Plaszow, his first concentration camp.  Over the next five years he went from Plaszow to Random, Random to Auschwitz, Auschwitz to Mauthausen, Mauthausen to Flossenberg, and Flossenberg to Mittelbau.  Each camp was progressively worse than the last; each camp was more lethal.
Viktor Frankl said he calculated the odds of survival in Auschwitz at 1 in 29 and that Auschwitz was pleasant compared to Mauthausen. Mauthausen was a death camp.  When Henri arrived there, the average survival period was four months.  Mittelbau was even worse.  Two thousand people went to Mittelbau with Henri.  Less than 300 survived.
Small wonder Henri has always felt he lives on borrowed time.  But the fact that Henri survived is less remarkable to me than the way he has chosen to live his life.
Henri lived in the closest thing to hell man can contrive.  He saw humanity at its worst.   He has answered by embodying the best.  Where there is abundant reason for anger, hate, and bitterness, there is only love, joy, and  forgiveness.
When I met him 25 years ago, I couldn't help wondering how this was possible, particularly how he could forgive those who had imprisoned him, starved and abused him, and killed his mother and father.  I learned it started like every journey with a single step, a decision that changed the direction of his life.
When the war ended, Henri was nineteen.  He said he was consumed by hate.   He wanted the Germans to suffer the way they had made him suffer.  He did everything he could to make sure they did.
"When they begged me for mercy," Henri said, "I didn't hear them.  I thought of my mother and father and I didn't hear them at all."
Then came the morning he met a German boy walking near a stream between two towns.  He was about the same age as Henri had been when he was taken to Plaszow.  The boy was dressed in the uniform of the Hitler Jurgen, Hitler's youth organization.
Henri still remembers the way his blood boiled.  He remembers blocking the boy's way and asking him if he was a good Hitler Jurgen.  Henri remembers the fear in boy's eyes.
"I wanted to hurt him," Henri says.  "I wanted to do to him what they had done me.  I told him to take off his clothes or I was going to kill him."
The boy did as he was told and stood naked before his tormentor, as Henri had done so many times before, shivering and afraid in the face of unreasoning hate.  As Henri looked at the boy, the rage he had been carrying crested.
"I grabbed the boy by the neck," Henri recalls, "and thought I would strangle him with my bare hands."
Then from deep inside came a quiet thought.  He did not want to be like them.
"I did not want to become what I despised," Henri says.  "Anything would be better than turning into one of them."
Slowly, the rage subsided.   When he caught his breath, he released the boy and told him to run.  It would be many years before he could say he forgave the Germans, but he had turned compassion's corner.  The healing had begun.