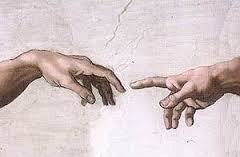 If you want to find hope in Anacostia, you have to bring it with you.  Anacostia is just across the river yet worlds away from the rest of Washington, DC.  For the most part, Washington is a place where people come to pursue their dreams.  Anacostia is a place where dreams die early.
Poverty is bone–deep in Anacostia.  Most of the students in the public schools there are at risk.  More than three fourths of these students read below basic proficiency levels and are considered functionally illiterate.
Along with our friends and colleagues at The Heart of America, we have visited schools in Anacostia on a regular basis since 1997.  One of the schools we have visited annually is Moten Elementary School.
In 2002, when we learned that many of the students at Moten would go without at Christmas, my wife and I felt compelled to go shopping.  We went to a mall near where we live, found a toy store that would give us a discount, and filled garbage bags with over five hundred toys.  We wanted to make sure every student at Moten would have at least one present to mark the holiday.
We repeated this exercise the following year, inviting others to join in.  The third year, with a better understanding of what the school's needs were, we decided that instead of buying the kids toys for Christmas we would bring them books.
When we arrived at Moten that year, we found the principal had asked some of her best students to help us unload.  One of these kids was an eager young man named Darius whose eyes lit up when he saw what we brought.  His response was so engaging, we felt compelled to ask him to pick a book we could read together.
To our surprise, the book he picked was one we brought for the kids in pre–school.  It was painful to watch this obviously bright fifth-grader stumble through a book my wife and I had read to our son when he was three years old.
As every parent knows, once you have a child of your own you can never look at a child in need the same way again.  I felt my heart in my throat and watched tears of compassion well up in my wife's eyes as Darius read.
In the background, we could hear faculty members rehearsing the song "The Eye on the Sparrow" in preparation for the school assembly that would soon follow and the presentation of books.  Their voices blended together, rising above and mixing with the lone voice of this lone child.
In that moment, I felt a father's despair for a child who may be left behind, a child who may be lost before he has really had a chance to begin.  At the same time, my spirits were lifted by the hope provided by the voices in harmony and the knowledge that such beauty can be created whenever people come together for some good purpose.
Compassion means to "suffer with."  When you touch someone's pain from a distance and in fear it becomes pity.  Compassion comes when you share someone's suffering and touch their pain with love.  When you do not run away from pain but walk toward it with compassion, you bring healing and strength.
Compassion is man's highest attribute.  Most of even our best instincts have a base side.  Love, hope, faith, courage, loyalty can all be corrupted by ego, selfishness, and human frailty and transformed into doubt, fear, and hate.  True compassion stands alone, unyielding.
Compassion connects our lives by a thousand sympathetic threads.  We all need to exercise our compassion and find support in the compassion of others.  At its essence compassion rests is the difference between saying, 'I am my brother's keeper' and 'I am my brother.'
In Darius' case, it was the inspiration for a national program that has since distributed 3.7 million books to children in need across the country.