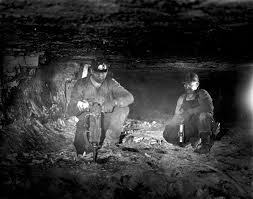 When I was thirteen, my Father told me he was dying.  He had been to the doctor for the annual physical required by his company, expecting nothing and feeling fine only to told he had black lung.  There was nothing that could be done.  His days were numbered.
I remember it vividly even now, the pain I felt as the entire landscape of my father's life suddenly came into view:  a man raised outdoors with a love of nature forced underground, into the mines, and away from the light by the depression, the demands of feeding a family postponing then eliminating any hope he had of getting an education, the ironic tragedy of a disease commonly associated with smoking striking a man who had never had a single cigarette.
This was the defining moment of my life.  At the moment, my Father's hopes and dreams became mine.  He said he was told he might have five years to live.  "I'm telling you this not because I want to scare you;" he said, "but because you know how important education is to me.  It looks like I'm not going to be here to help you.  I want you to promise me that somehow you will find a way to do what I couldn't do and go to college."
There was no choice, of course, and so I made that solemn commitment with fear and trepidation, not knowing how I would be able to do what no one in my family had ever done before.  Through the grace of God, with the help of a scholarship and a lot of part-time jobs, I was able to keep that commitment.   With my success came many benefits, but none greater than the knowledge that nothing I would be asked to do would likely be as difficult as what I had already done.
Human nature is such that we become fuller and more ourselves every time we do the thing we think we cannot do.  We gain courage with every fear we face, strength with every challenge we conquer, and confidence with every obstacle we overcome.  We learn more from losing than winning, grow more through adversity than good fortune.
Our appreciation for our health, so easily taken for granted, is enhanced by illness and recovery.  Our understanding of the value of life is shaped by our awareness of death.  Suffering enhances our ability to feel joy, while grief and loss to build our capacity for empathy and compassion.  There is a promise in every pain.