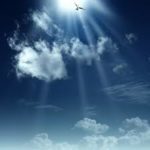 Kafka said, "The meaning of life is that it has an end."
The meaning of love is that it does not.
There is a piece in each of us that is God's piece.  This is the thing we call our "soul."
Love is the expression of the soul.  The soul expands with every act of love, every kind word, every time we see beyond ourselves and reach out to those in needs.  It contracts every time we see and don't say, every time we turn our backs and walk away.
"God is no White Knight who charges into the world to pluck us like distressed damsels from the jaws of dragons or disease," Nancy Mairs said.  "God chooses to become present to and through us.  It is up to us to rescue one another."
The prayers we send to God for answers come back as questions.  God is in the distance from what is to what ought to be.  It is His voice that tells us right from wrong, offers the judgment that "someone should do something about that," and prompts our response.  What is disclosed to consciousness is something that is.  What is revealed to the conscience is something that should be.
The call we make to a friend in need, the smile we give a stranger, our every act of kindness are all part of God's design.  We act for God each time we respond to a need we see or sense.  Every act of love ripples out in an endless cycle of giving and receiving.
This is how the world is changed.  It's love that acts.
Love sustains all, transcends all, makes all things possible, and all conditions of life tolerable.  Love unites us because love alone connects us by what is deepest in ourselves.  So long as we are loved, we are necessary and immortal.