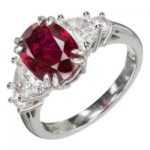 My father's health deteriorated progressively through the years. The degeneration of his lungs put an increasing strain on his heart. Heart problems were followed by kidney problems, kidney problems by diabetes. It was as though his bodily systems were failing, one by one.
Then in the spring of l988, Dad developed cataracts and had to go in for surgery on both eyes. The operation on the first eye went well, but the second did not. As he waited for things to heal enough to allow corrective surgery, he grew increasingly frustrated an angry. He felt his body had been betraying him for years. This was the final insult.
During that time, it seemed there was little he could do other than aggravate my mom. Unable to work and uninterested in TV, Dad spent much of his time looking through the mail order catalogs that poured into the house. Dad called them his "wish books." He examined each one that arrived in detail, thumbing through them for hours.
Watching this activity, day after day, and trying to guess why he seemed so preoccupied with something so trivial, frustrated my mother even more. Her frustration was compounded whenever she asked him what he was doing.
"I am just looking," Dad always responded defensively. "Can't I look?"
It seemed like a small thing in the midst of some many other things; but it grew to be the source of the greatest friction I ever saw between my parents. Finally, it got so bad my brother and I felt we had to give Mom a break. We agreed he would take her on a mini-vacation, while I stayed with Dad and took care of him.
Almost as soon as we returned from taking them to the airport, Dad pulled out one his wish books. "I have looking for a ring like this," he said, "and I need your help."
Dad explained that when they were married he could not afford to buy my Mother an engagement ring, but he had promised her that someday he would. Their 45th anniversary was approaching. In anticipation of that event, he had been searching for the perfect ring and a way to make good on his promise.
The ring had to have thirteen stones, Dad said, because they were married on July 13. For the same reason, he wanted the center stone to be a ruby, the birthstone for July, flanked by a smaller ruby and by five diamonds on each side.
After months of looking, he said he thought he had finally found what he wanted in one of the catalogues. He asked me to drive him to the store so that he could see it.
We did as Dad wanted, but the ring he had seen advertised was disappointing. The stones were small and of poor quality. There were some other nice rings in the store, but they did match the image he had in his mind and were priced well beyond his means.
Much of the week Mom was gone, my Father shopped for the ring he wanted without success. He was reluctant to give up but the time for her return was rapidly approaching. To put his mind at ease, I assured him that I knew what he wanted and would keep looking for his ring until I found it. Dad seemed satisfied with that but, a man of great pride; he made me promise I would give him the bill.
The day after my Mother's return I went to a jeweler in downtown Washington. I told him I wanted him to make a ring for me and gave him specifications. We picked out the stones and agreed on the price. Then I told him why I wanted the ring and asked for a favor. I said I would pay his price, but I wanted two invoices – one for the full amount, the other for my father made out in the amount he hoped to pay.
The jeweler was happy to comply and Dad was delighted with ring. He was even more pleased when he saw Mom's reaction to her anniversary ring and her appreciation for the thought and great love that had gone into its purchase.
My father passed away five months later. My mother followed him in eighteen months. Neither one of them ever knew what I had done. But nothing, they could have said or done would have meant as much to me as the look in Mom's eyes as she gazed at that ring in the months after my Father's death.