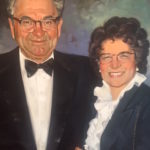 One of the great regrets of my life is that my parents never had a chance to meet my wife.  My father had lectured me repeatedly through my young years  telling me to make sure I found the right woman.  He said it was the most important decision I would ever make.  My mother simply wanted me to find a woman who would love me as much as she did.
It took me a while, but I succeeded.
It was therefore more than appropriate that my wife surprised me with a portrait of my parents on our first Christmas together.   She said the painting was done by Simmie Knox,  I had never heard of Knox but I soon learned he was a painter of national repute.  He has portraits hanging in the Supreme Court, the White House, and a number of national galleries.
We placed the portrait in a place of honor over the sofa in our living room.  When our son came along a few years later, our family would sit there together watching the things that children like to watch.
One day when he was about five, our son looking up at the portrait, stared at it for a moment, then he turned to me and said:
"You know I knew your mother before I knew you."
His comment came out of the blue and caught me completely by surprise.
"What do you mean?" I said.
"We used to play together in heaven," he said, "before she picked me out for you."
Our son doesn't remember that now, nor does he  remember saying it; but I have never been able to forget it.
The universe is alive.  Life is seamless.  It stretches forward into the future and back beyond the boundaries of time.  There is no beginning.  There is no end.