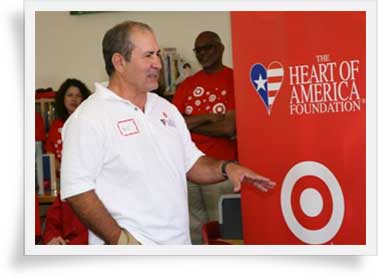 Bill is Co-founder and Chairman of The Heart of America Foundation®, where he has served as a full-time volunteer since the Foundation was created in 1997.  He is also the co-founder of four other national non-profit organizations: the Caring Institute, the Foundation for Hospice and Homecare, the National Association for Home Care, and HealthRight.  He was a long-time board member and past Chairman of America's Charities, a consortium of 120 national charities and served as a member of the Board of Directors of the Jane Goodall Institute and the ReadItLoud Foundation, founded by Wally "Famous" Amos.
Before devoting himself to the non-profit world, Bill had a long and distinguished career in public service.  Over the course of 20 years, he served with the Bureau of Budget and Finance; the Pentagon Counter Intelligence Force; the Office of the Deputy Chief of Staff, Intelligence, MDW; and as Counsel, Chief Investigator, and Director of Oversight, United States Senate; and as Staff Director of the House Select Committee on Aging, Subcommittee on Health and Long-Term Care.
Bill has written and produced two documentaries for PBS – Voices of the People  (l994) and Suffer Not the Little Children (l987) – and is the author of nine books, including Spiritual Common Sense: 77 Guiding Principles to a More Meaningful Life; Be The Light, Love and Hate, The Heart of America:  Ten Core values that Make Our Country Great, and His Name Is Today.  His work has been featured on 60 Minutes, ABC 20/20, Dateline, Good Morning America, NBC Today, CBS This Morning, NBC Newsday, CNBC, CNN, Oprah, Sonya Live, Parade Magazine, USA TODAY, and The Visionaries.