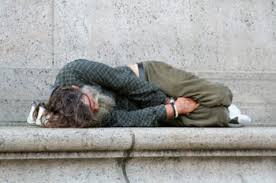 A few years ago, I visited San Francisco for a board meeting of the Jane Goodall Institute. Though I arrived late in the day, I was determined to get out of the hotel and enjoy the city.
As I began to walk around, I was surprised by how much things seemed to have changed.  The area around my hotel felt uncomfortable.  Many of the people on the street seemed somewhat seedy.  The few shops that were open were the kind of shops most communities try to close.
Still, my parents were married on O'Farrell Street a few blocks away.  I was determined to visit the site and began walking in that direction.  As I waited for a light at the first major intersection, I saw a derelict coming toward me.  He was dirty and drunk and disheveled.  His hair was long and unkempt.  His face and clothes were covered with filth.
As he staggered across the street, a gang of rowdy young people entered the intersection from the crossing street.  They were loud and obnoxious, clearly out for a night on the town.  They took great delight in ridiculing the drunken man as he approached.
Their amusement reached a crescendo when the derelict stopped in the middle of the street, dropped his pants, and began to urinate.  He stood there for a moment, wavering and fighting for balance until the booze got the better of him.
He fell and lay there in the intersection, exposed to the world and in obvious confusion.  I watched in shock and consternation.  The gang of teens ran to his assistance, helping him to his feet, pulling his pants up, and seeing him safely across the street.
It's been five years, but this incident is still fresh in my mind.  I don't know which I regret more – that I was not the one to help or that I so badly misjudged those who did.
Each day we meet indifference, ingratitude, disloyalty, dishonesty, greed, ill will, and selfishness.  A life of love requires we answer with honesty, integrity, empathy, good will, and selflessness.  A life of love asks us to listen with our hearts, act with compassion for all living things, and live a life of limited regrets.